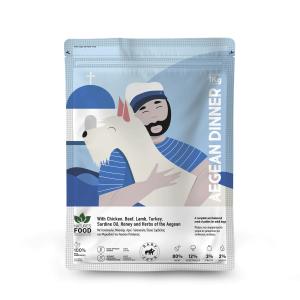 Aegean Dinner
A rich meal made of various types of meat and honey from the Aegean islands which strengthen the body. Suitable for all dog breeds. Package 1 Kg of  ≈40 mini burgers x 25gr.
---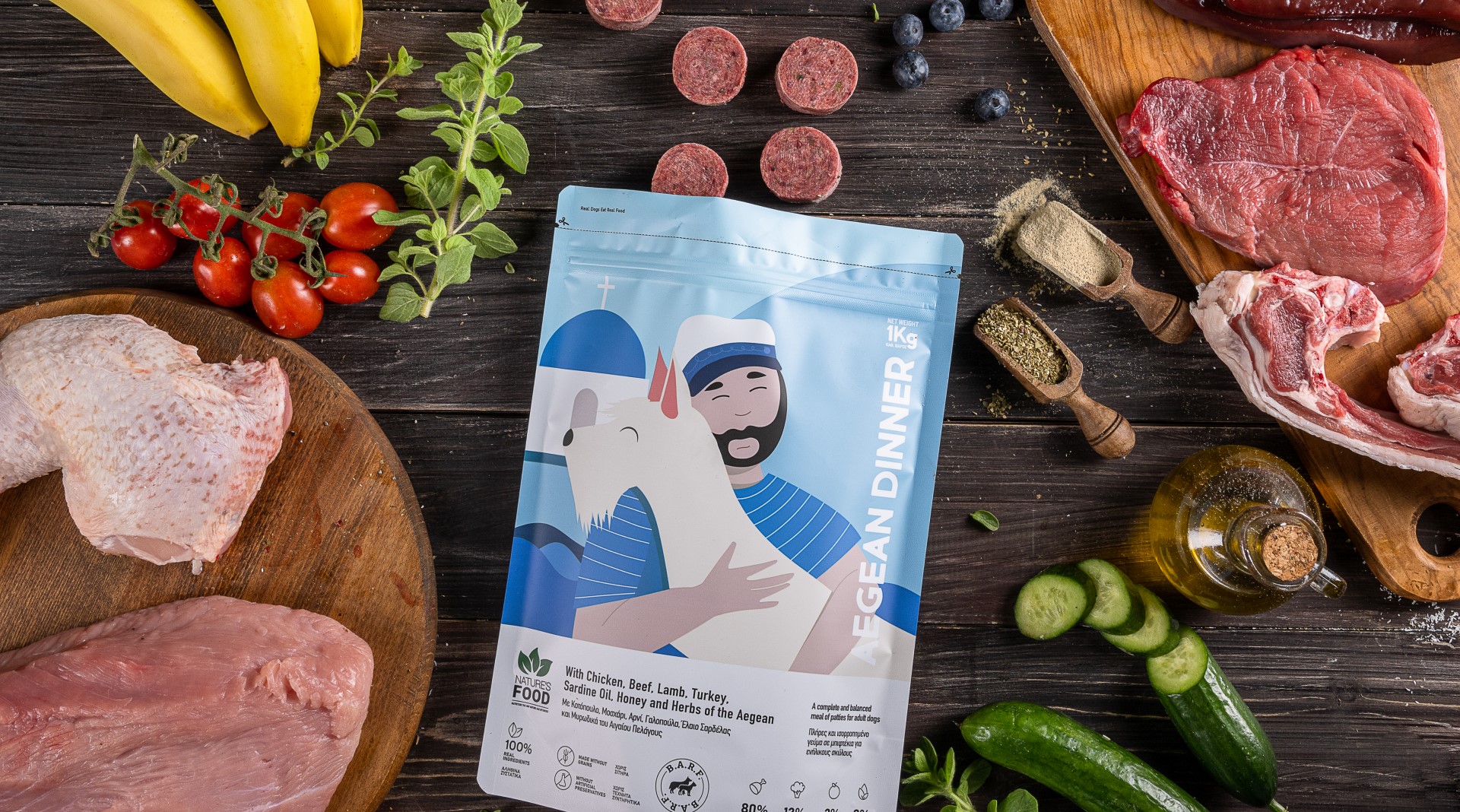 Aegean Dinner is a unique combination of chicken, lamb, beef and turkey protein provides your pet with proteins of high biological value and helps achieve the best amino acid ratio for your dog. Moreover, it has been enriched with vegetables and fruits such as cranberries and bananas, honey and apple cider vinegar in right proportions, t seaweed and green mussels. Thus, it possesses a unique nutritional profile in the form of a delicious meal that our four-legged friends will love.
An ideal Mediterranean meal with a touch of the Aegean Sea for very active dogs or dogs whose immune system is in need of a boost. Suitable for all dog breeds.
Complete and balanced nutrition.
100% natural certified free-range chicken.
Made without grains.
No artificial colorants, no preservatives, no aromas.
A meal rich in protein
Hormone-free
Of Greek origin.
Ingredients fit for human consumption.
Deep-frozen product.
Chicken whole (35%) (muscle meat, bones, offal), beef (20%) (muscle meat, offal), lamb (15%) (green tripe), turkey (10%) (muscle meat), vegetables (10%) (lettuce, cucumber, beetroots, tomato), fruits (3%) (banana, cranberry), beef broth with apple cider vinegar and spices, extra virgin olive oil, thyme honey, kelp powder, sardine oil, dried oregano, green lipped mussel powder.
*Bone content: 13%
Turkey: a lean meat which contains high bioavailability protein. It contains niacin (vitamin Β3) which is beneficial for the heart and vitamin Β12 which contributes to the proper functioning of the intestines and the brain.
Beef: It is the main source of bioavailable iron. This means that the iron contained in red meat is better absorbed than the iron contained in plant-based foods. It contains zinc which promotes growth, maintains a healthy coat, strengthens the immune system and accelerates the healing of wounds.
Lamb tripe from the Aegean islands: The high nutritional value of tripe is indisputable. Raw green tripe is an exceptional food for dogs as it combines beneficial bacteria and digestive enzymes. Thanks to its optimum calcium to phosphorus ratio and high content of manganese and selenium, it has been proven to promote the overall good health of your pet.
Oregano from the Aegean islands: The famous and rare wild oregano of the harsh, arid mountains of the Aegean is an emblematic herb of the Greek islands. It was the herb of the goddess Aphrodite and was used as a symbol of joy, happiness and peace. Oregano is particularly rich in thymol and carvacrol which inhibit the growth of bacteria and eliminate intestinal bacteria. It has considerable antibacterial, anti-inflammatory, healing, digestive, anti-rheumatic, antiseptic and diuretic properties.
Beetroot: It is a delicious bulbous vegetable, rich in nutrients with amazing health benefits, as it is an excellent source of folic acid, magnesium and potassium.
Seaweed (kelp): It contains alginate salts which cleanse the intestinal tract and neutralize heavy metals. It stimulates the immune system and contains trace elements – including iodine – for the proper function of the thyroid and better metabolism. It is rich in active minerals, trace elements and vitamins A, C, B2, B3 and E.
Honey: Thanks to its ingredients, honey has antioxidant, antimicrobial, healing, anti-inflammatory, anti-cancer, immunosuppressive & cardioprotective properties. Honey acts as a natural remedy for all diseases as it is rich in vitamins B and C and contains nutrients such as minerals, magnesium, sodium chloride, potassium, iron, sulphur and phosphorus.
Green lipped mussel: The green lipped comes from the shellfish Perna canaliculus and is a natural anti-inflammatory. It is a rich source of glucosamine and chondroitin, vitamins C and E, antioxidants and minerals such as copper, zinc and selenium. A diet enriched with green lipped mussels helps mitigate pain in the joints of your pet and protects cartilage and bones.
NUTRITIONAL VALUE %
Dry matter basis
Nutritional value per 100g
GUARANTEED NUTRITION AS FED
Energy value per 100g
582 kj 139 kcal
Nutritional value per 100g
| | |
| --- | --- |
| Moisture | 70.3% |
| Proteins | 13.6% |
| Fat | 10.4% |
| Ash | 3.5% |
| Crude Fiber | 1.1% |
NUTRIENT PROFILES
The Nutrient Profile for this product is also available for download. GET THE PDF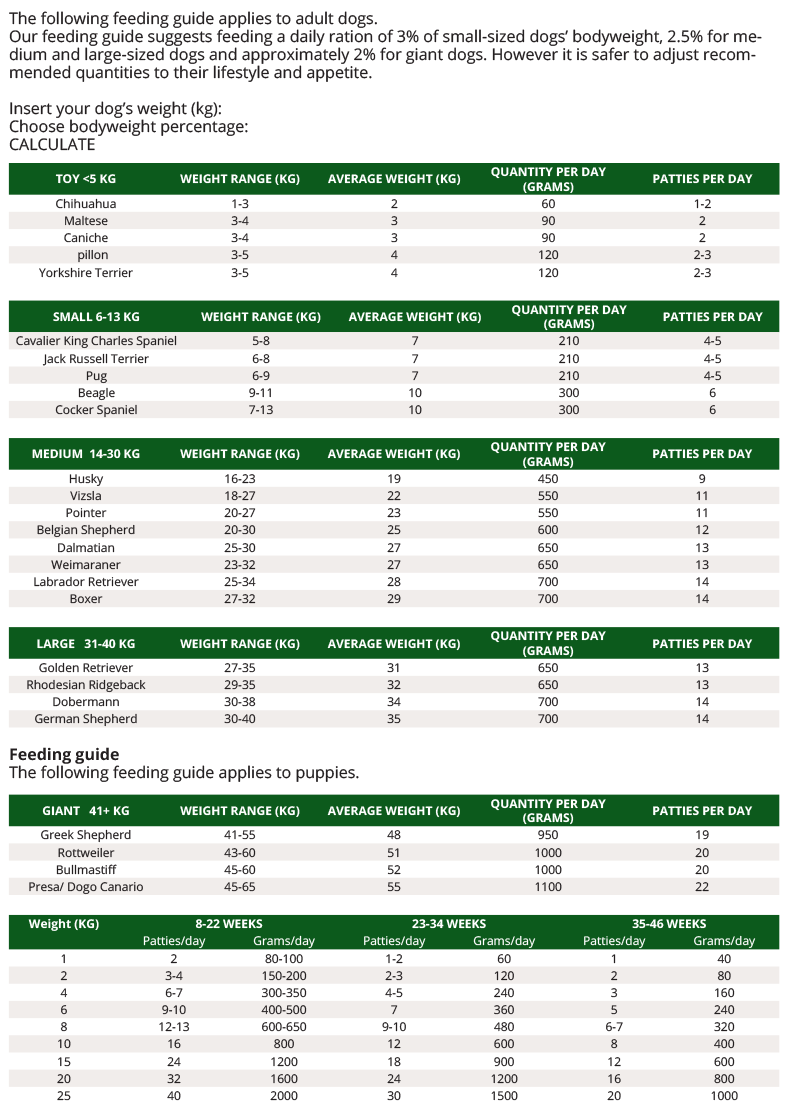 Download PDF