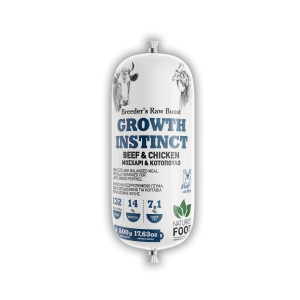 Nature's Growth Instinct, Frozen 500 gr Sausage
A high quality and innovative BARF meal suitable for all puppies and especially large-breed puppies. Package of 500 gr. sausage.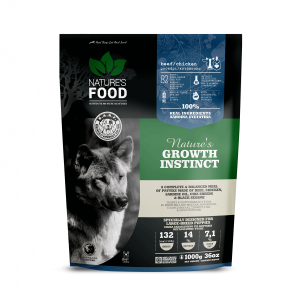 Nature's Growth Instinct, Patties 1kg
A high quality and innovative BARF meal suitable for all puppies and especially large-breed puppies. Package 1 Kg with mini burgers of approximately 50gr.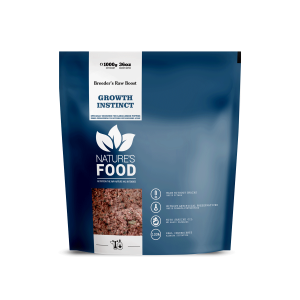 Nature's Growth Instinct, Breeder's Raw Boost 1kg
A high quality and innovative BARF meal suitable for all puppies and especially large-breed puppies. Package 1 Kg in a flat bag for easy storage.
---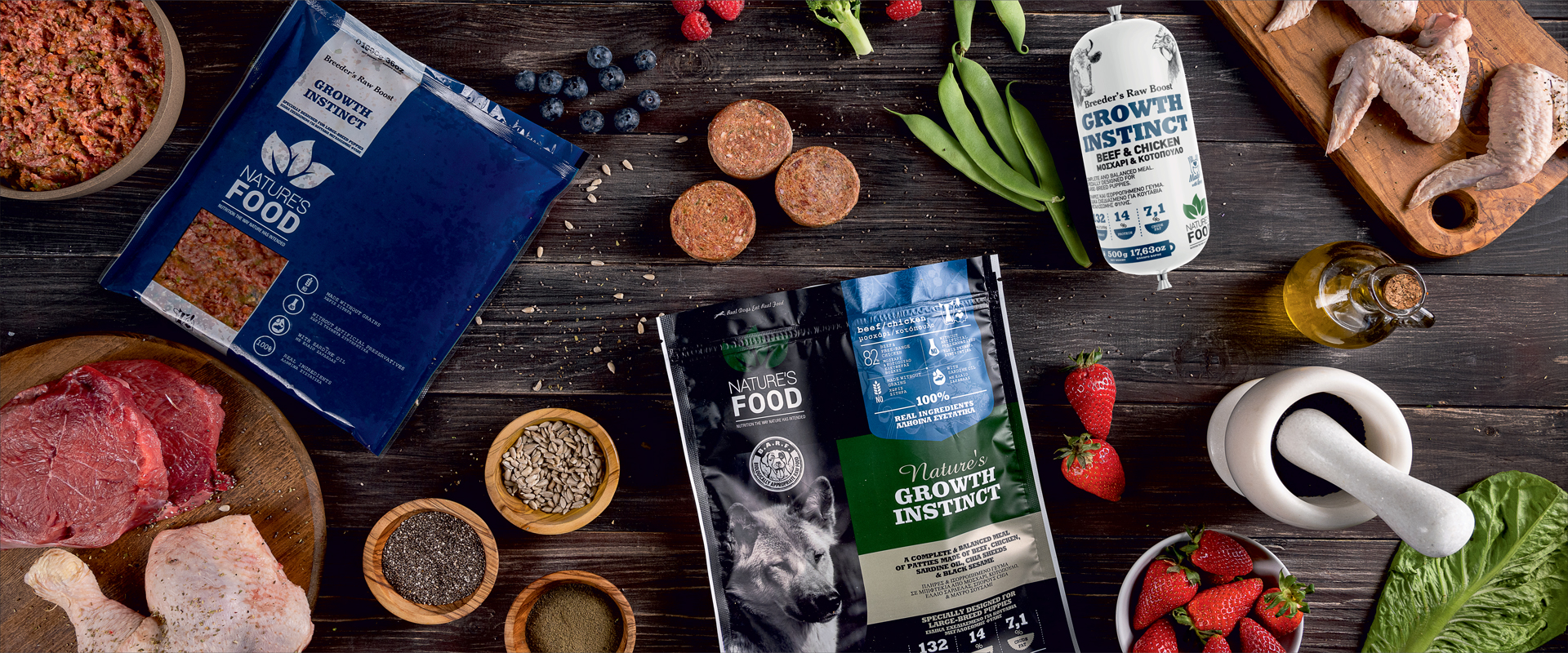 Growth instinct is a high quality and innovative BARF meal suitable for all puppies and especially large-breed puppies. It is a complete and balanced meal whose aim is to make puppies healthier by providing them with all the necessary nutrients for a strong and robust musculoskeletal system.
Large-breed puppies are those puppies of an expected adult body weight >25 kg. Such puppies complete their growth cycle after the age of 15 months and, therefore, their diet requires thorough monitoring to help ensure their proper development. To prevent premature growth, they should follow a low-calcium and low-phosphorus diet of low total calorie content. Diseases like obesity (which predisposes to hip dysplasia due to the increased calorie intake and the strain caused on the skeleton) are largely related to diet. The association of high calcium and phosphorus levels with DOD (Developmental Orthopaedic Disease) has been scientifically proven. Calcium is essential for strong bones, but it is harmful when in excess. Puppies, unlike adult dogs, are unable to sufficiently regulate calcium absorption. They sometimes absorb and retain too much calcium which could lead to skeletal deformities. Too much calcium in a puppy' body leads to deficiencies in other essential nutrients, such as phosphorus. Calcium and phosphorus work together and the correct calcium to phosphorus ratio is a prerequisite for healthy bones and joints.
For all these reasons, the carefully monitored and balanced intake of calcium and phosphorus is of vital importance for the good health of large puppies. Our new Growth Instinct meal has been specially designed for those puppies and we have taken into account all aforementioned factors.
An ideal meal for stronger immune system and revitalization.
Suitable for all ages.
Complete and balanced nutrition.
100% natural certified free-range chicken.
Made without grains.
No artificial colorants, no preservatives, no aromas.
A meal rich in protein and low on fat.
Hormone-free.
Of Greek origin.
Ingredients fit for human consumption.
Deep-frozen product.
Chicken meat and bones (47%), veal offal (35%) (heart, lung, tripe, liver), vegetables (12%) (green beans, pumpkin, broccoli, lettuce), fruits (cranberry, blueberry, strawberry), sardine oil, sunflower seeds, chia seeds, black sesame, kelp powder, extra virgin olive oil.
*Bone content: 16%
Chicken meat is an essential source of proteins and amino acids. Edible bones contain calcium and phosphorus which are indispensable for the proper growth of puppies.
Veal offal contains nutrients and provides essential minerals such as phosphorus, iron, magnesium and selenium, and water-soluble vitamins such as B-complex vitamins (B1, B2, B6, folic acid and B12). Liver, in particular, is a source of vitamin A, B, iron and copper.
The pumpkin is a highly nutritious vegetable which is rich in minerals, water, fibre and riboflavin. It is rich in potassium, which is necessary for proper muscle function and contains calcium, iron, zinc, copper, manganese and phosphorus. All those minerals are essential for the immune, musculoskeletal, gastrointestinal and nervous systems of dogs.
Blueberries are rich in vitamins A, C, E and B-carotene, potassium, magnesium, phosphorus and fibre. They are well-known for their antioxidant and anti-cancer properties and enhance the functioning of the heart and the brain. They are used in the treatment of diarrhea, indigestion, nausea and protect against urinary tract infections.
Sardine oil promotes a healthy body. It contains EPA and DHA omega-3 fatty acids which reduce skin inflammation that usually leads to pruritus, persistent scratching and loss of the coat's hair. It is also rich in vitamin B12, vitamin D, calcium and selenium, a well-known antioxidant. Scientific research has proven that dogs that follow a diet rich in omega-3 fatty acids show increased mobility and strong joints.
Sunflower seeds are a good source of fatty acids, phosphorus, magnesium, iron, calcium, potassium, vitamin E and folic acid. They also contain zinc, manganese, copper and carotene. Sunflower seeds protect against heart disease and the B-complex vitamins they contain reduce stress.
Black sesame is rich in minerals, trace elements and vitamins. It strengthens the immune system, has antioxidant properties and is rich in carbohydrates, amino acids, proteins and vitamins such as B, E, A and C. Its seeds contain zinc and calcium and help prevent osteoporosis. Moreover, black sesame seeds help relieve digestive problems.
Seaweed powder (KELP) provides the body with a considerable amount of proteins, carbohydrates and fatty acids. Moreover, it contains more than 70 minerals and trace elements, vitamins, enzymes and proteins which maintain a shiny and smooth coat, healthy skin, strong bones and muscles. It contains, among others, iron, magnesium, potassium, sodium, as well as vitamins A, C and B-complex vitamins. It provides relief from pain caused by arthritis, increases energy levels, strengthens the immune system and improves the functioning of the liver.
NUTRITIONAL VALUE %
Dry matter basis
Nutritional value per 100g
| | |
| --- | --- |
| Proteins | 45% |
| Fat | 35% |
| Ash | 12% |
| Carbohydrates | 5% |
| Crude Fibres | 3% |
GUARANTEED NUTRITION AS FED
Energy value per 100g
kj 132 kcal
Nutritional value per 100g
| | |
| --- | --- |
| Moisture | 73.1% |
| Proteins | 14% |
| Fat | 7.1% |
| Ash | 3% |
| Crude Fibres | 1.8% |
NUTRIENT PROFILES
The Nutrient Profile for this product is also available for download. GET THE PDF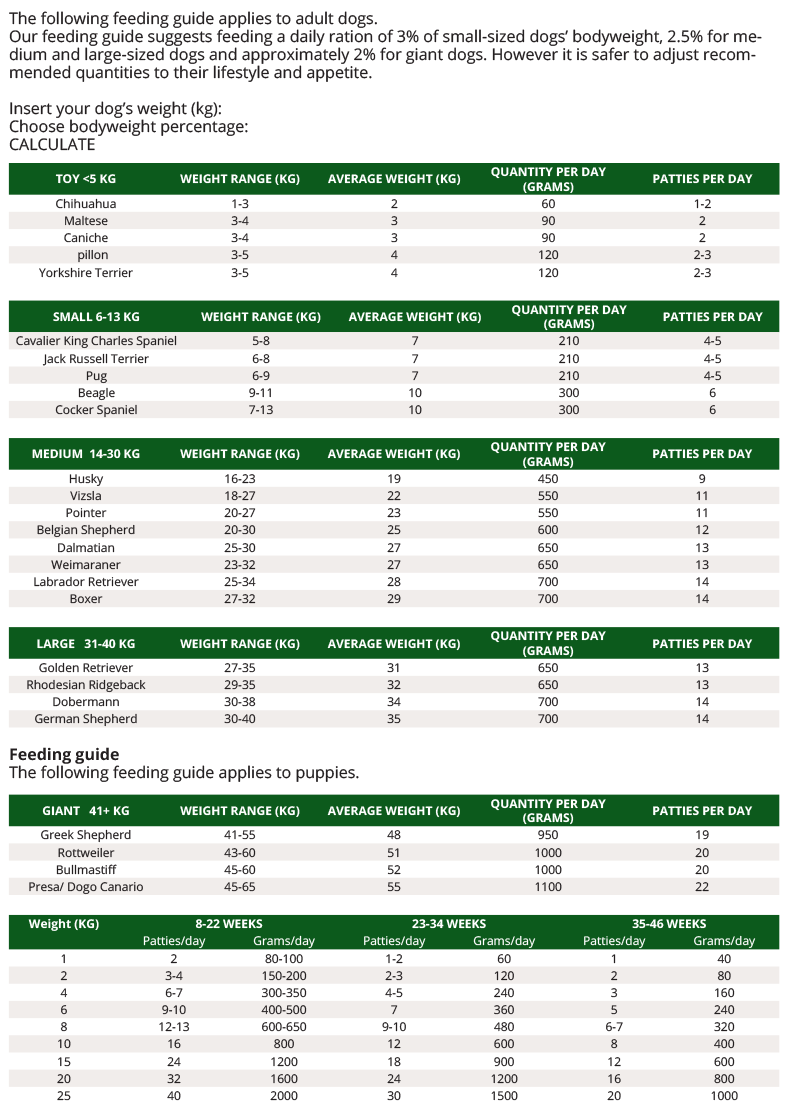 Download PDF